If you're new here, you may want to subscribe to my RSS feed. Thanks for visiting!
January 21st – February 28th, 2011 Special – For Customers in US and Canada Only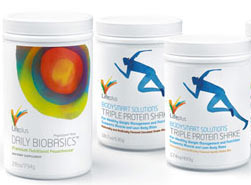 Order Daily BioBasics and a Triple- Protein Shake and receive a box of Smart Bars Free a $33 Value! Your Choice of Chocolate or Vanilla Shake.
(Note: for each Daily BioBasics and Shake you buy you'll receive 1 free box of Smart Bars. For example buy 2 Daily BioBasics and 2 Shakes and get 2 free boxes of Smart Bars.)

This provides you an excellent opportunity to try the great tasting Chocolate Smart Bars for free while you try our extremely popular Daily BioBasics and Protein Shakes products.
The Life Plus SMART bar delivers superior nutrition with low-glycemic index values. Each all-natural, great-tasting bar contains a special combination of complex carbohydrates, healthy fats, quality proteins and dietary fibers, without any sugar alcohols, trans fats or artificial sweeteners. The result is a long-lasting energy source that keeps you going without a sugar crash slowing you down later.
More information on this Free Smart Bar Special – Click Here!
More information on the Nutritional Powerhouse Daily BioBasics – Click Here!
More information on the great tasting Triple Protein Shakes – Click Here!