If you're new here, you may want to subscribe to my RSS feed. Thanks for visiting!
New Product D-Mannose Plus from Life Plus  for Healthy Urinary Tract Function.


D-Mannose Plus supports urinary tract health and supports the immune system without disrupting the delicate balance of flora in the urinary tract! An ounce of prevention is worth a pound of cure!.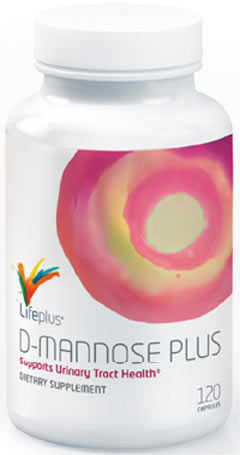 Life Plus has mixed D-Mannose with Cranberry Extract to further promote urinary tract health without the sugar of Cranberry Juice.

D-Mannose Plus is a super and safe product to maintain urinary tract health. It can also be used to treat 90% of urinary tract infections. D-Mannose is a simple sugar found in the aloe vera plant. This sugar is NOT used as a fuel and does NOT stimulate an insulin reaction!
Here is how D-Mannose Plus Works
This product is for men and women. UTIs seem to strike women more frequently and 90% of these infections are from E-Coli bacteria. E-Coli is a necessary bacteria in the large intestine but bad in the bladder. E-Coli has receptors for D-Mannose so the E-Coli binds to the D-Mannose and then leaves the bladder with the urine!
90% of these infections can now be treated WITHOUT antibiotics!
More information on D-Mannose Plus – Click Here