If you're new here, you may want to subscribe to my RSS feed. Thanks for visiting!
Life Plus has a great buy 1 get 1 free special for the month of July.
This is a Special Product Offer for Customers in the US and Canada.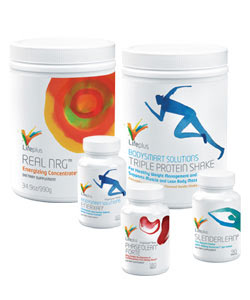 Order one bottle of any of these products from July 1 – 31, 2011 and Lifeplus will add a bottle of the same product for FREE!
Bodysmart Solutions Triple Protein Shake Vanilla Unsweet
Each serving of Bodysmart Solutions Triple Protein Shake Vanilla Unsweet provides 20 grams of high-quality protein from whey, milk and soy. It also contains highly bioavailable calcium, magnesium and potassium, just one gram of carbohydrates and is formulated without added sweetener.
Phase'oLean® Forte Starch Blocker
Great addition to any weight control plan because it may allow you to vary your menu by including some starch in your diet without having to suffer the consequences (within reason of course).
Slenderlean® Fat Burner
A breakthrough product for the nutritional support of healthy moods, energy, appetite, and weight management, as part of a complete program of diet and exercise.
Bodysmart Solutions Enerxan®
Energize your Bodysmart Solutions Program with Enerxan. It has many potent metabolism chargers that have been concentrated from green teas, yerba mate, guarana, damiana, cinnamon, chromiu, and cocoa, plus the amino acid L-tyrosine..
Real NRG™ Energy Drink
A great tasting alternative to coffee or soda. Simply mix Real NRG with water or your favorite juice to create a delicious drink. Real NRG is the drink for anyone who needs a healthy pick-me-up – day or night.
Click Here to Order Monthly Special