If you're new here, you may want to subscribe to my RSS feed. Thanks for visiting!
Life Plus has a great buy 1 get 1 free special for the month of September. This is a Special Product Offer for Customers in the US and Canada.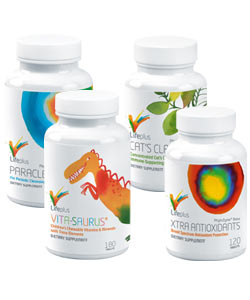 Order one bottle of any of these products from September  1 – 30, 2011 and Lifeplus will add a bottle of the same product for FREE!
Cat's Claw Plus – Concentrated Cat's Claw Plus Other Rain Forest Herbs – Click Here! - Cat's Claw Plus contains cat's claw (una de gato), which is from South America, along with other herbs that provide nutritional support to the immune, digestive and reproductive systems.*
Paracleanse – Click Here!- Paracleanse is a synergistic combination of herbs, herbal extracts, sulfur-containing amino acids and MSM, carefully designed to support healthy cleansing of waste, chemicals, and harsh environmental factors from the body. Paracleanse supports the body in going beyond ordinary cleansing processes.
Vita-Saurus Children's Vitamin Formula – Click Here! – Vita-Saurus is a naturally flavored, good tasting, chewable multiple vitamin and mineral supplement. Vita-Saurus not only contains the vitamins and minerals that are normally found in a children's vitamin, it also contains the full spectrum of all vitamins and minerals classified as "essential." Amazing Vita-Saurus is one of the best, if not the best, children's vitamin on the market today. ..
Xtra-Antioxidants – Superior Antioxidant Network – Click Here! – Superior Antioxidant Network of Over 30 Separate Antioxidants. Antioxidant nutrients function most effectively as a network. Xtra Antioxidants contains many different synergistic antioxidant nutrients, including the basic vitamins A, C, and E, as well as potent extracts from certain plants rich in antioxidant compounds, such as polyphenols and flavonoids. These high quality plant extracts are greatly concentrated to provide specific nutrients our bodies need.
Click Here to Order Monthly Special