Use of Digestive Formula can help improve digestion in many people, including those who may experience occasional indigestion or heartburn.
The whole process of digestion requires virtually more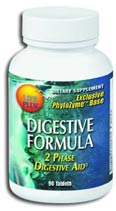 energy from the body than any other process. Hydrochloric acid production diminishes easily under stress and also decreases as we grow older.
Among other things, adequate levels of stomach acid are needed for optimal absorption of minerals and vitamin B-12, as well as for complete digestion of dietary proteins. These functions may be needed in order to maintain the ability to make adequate amounts of stomach acid.
Digestive Formula is uniquely formulated to provide support to the body in the digestion of food in both the acid environment of the stomach and in the more alkaline intestines, by using time-released enzymes and special buffering agents released in the stomach and intestinal phases.