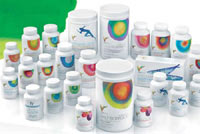 Amazing Triple Protein Shake - Low-Carb Protein -Rich Drink.
Can I improve my body tone and lean body mass with Triple Protein Shake?
This superior product is the result of years of intensive research by Life Plus scientists. It supplies an unprecedented blend of superior protein sources, each of high biological value, with dairy calcium, soluble magnesium and potassium, and approximately a third of the Daily Value (DV) of all essential vitamins and minerals.
BodySMART Triple Protein Shake helps support muscle and lean body mass. This popular product provides a special blend of proteins from three different sources known for their biologically favorable ratio of amino acids: GMO-free soya milk protein isolate and whey protein.
Our whey protein is manufactured with a unique process that incorporates low-pressure, low temperature ultra and microfiltration, and advanced spray drying technology. This ensures minimum protein denaturation and produces a very high protein whey product that is virtually lactose and fat free, fully soluble and has a neutral flavor.
Unlike ion exchange purified whey proteins, it is rich in biologically active fractions. These three protein sources provide a complete and balanced spectrum of all the amino acids. Whey protein is a particularly rich source of the essential and branch chained amino acids, which are crucial to muscle function and development. Soy protein is also known to have specific health benefits, including support of heart health.

Super Shake is available in both Chocolate and Vanilla flavors - Great taste with no added sugar!