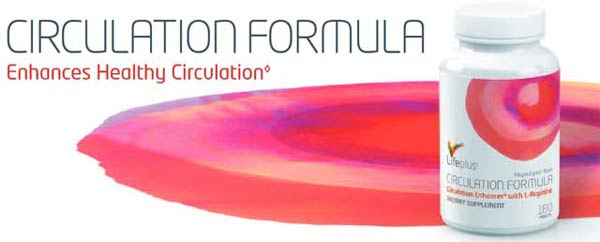 Researchers won the Nobel Prize for proving that the main ingredient in Circulation Formula, L Arginine, produces "NO" .
"NO" stands for nitric oxide and is actually what your blood vessels use to stay dilated (open) so your blood can flow through them more easily and efficiently.
Circulation Formula is a premium formula that also contains synergistic B-vitamins and high quality herbal extracts, including Ginkgo biloba, Horse Chestnut seed, and Butcher's Broom extracts, which support healthy arteries, veins, and circulation.
As well as Muira Puama from the Amazon that promotes and supports healthy sexual function.
The organs in your body for which the ability to dilate arteries on demand for optimal blood flow is most critical are your heart, brain, and sex organs.*
Circulation Formula is a premium scientific formulation that includes the amino acid called L-arginine, which is one of the twenty-two protein "building blocks". Its name derives from the Greek word for bright.
L- arginine plays a specific role in the body as fuel for the production of NO, sometimes referred to as ADNO for "arginine derived nitric oxide." Numerous clinical studies have now confirmed that supplementing the diet with L-arginine, as contained in Circulation Formula, leads to healthy levels of NO in the body. Below is a partial list of the many functions supported by ADNO:

It relaxes the arteries, including the coronary arteries that supply blood to the heart, helping to maintain healthy blood pressure and blood flow.*

It has potent antioxidant activity and is a free radical scavenger that helps to maintain cholesterol levels that are already within normal range.* It protects cholesterol from free radical attack and oxidation.

It helps maintain a healthy immune system function of many immune system cells, such as macrophages, lymphocytes, and neutrophils (L-arginine also appears to support healthy immune function independently from its role in producing ADNO).*

It assists in transporting oxygen by hemoglobin in the red blood cells and removing carbon dioxide waste from the body.◊

It is used by the brain to encode long-term memory and enhances healthy blood flow to areas of the brain as they become active and require more energy.

It relaxes the muscles surrounding airways of the lungs, thereby helping to maintain healthy lung function.*

It supports the pancreas in maintaining adequate insulin secretion.

It helps maintain the release of human growth hormones (HGH) from the pituitary, which enables the body to better retain ample muscle mass and bone density and keep body fat at the proper level.

It assists in promoting healthy blood flow to the sexual organs in both men and women, which is necessary for youthful sexual function and enjoyment.