If you're new here, you may want to subscribe to my RSS feed. Thanks for visiting!
Life Plus has just released their new improved Feminine Balance Formula designed for the Feminine Needs of Women Before, During and After Menopause!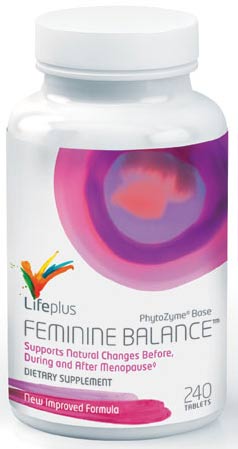 Those that have been testing it have been raving about its effectiveness.
Here is a brief summary of the new product.
Feminine Balance now combines three new ingredients (hops, asparagus racemosus and fragrant Boswellia) with increased amounts of key components to help support women before, during and after Menopause.
Here is what all it does:

Reduce the frequency and ease the severity of hot flashes for many women*

Support healthy moods, bone density and adrenal function*
Help maintain proper balance of hormones and reduce fatigue*

Try Feminine Balance today it is an outstanding product. Feminine Balance Menopause Support Product – Click Here!
June Monthly Special – Click Here!
Order one of the three different Physical Performance Packs (Click Here!) – Get a Free  Tube of Wonder Gel (Click Here!)
The Physical Performance Packs normally includes Fusions Red™, Circulation Formula and a Triple Protein Shake.
For the month of June only, order any one of the three Physical Performance Packs and receive a FREE tube of Wonder Gel.